Hadley-Luzerne Claims Highest Honor at 20th North Country Model Organization of American States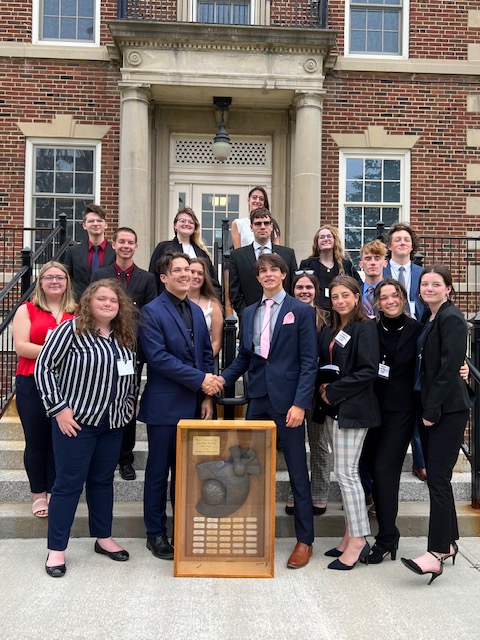 ---
Hadley-Luzerne took the highest honors at the 20th North Country Model Organization of American States (NCMOAS), held recently at SUNY Plattsburgh. This is the sixth time in seven years that Hadley-Luzerne students have earned this honor.
The NCMOAS is a class taught in school districts from Granville to Ogdensburg. Students earn college credit as well as NYS Participation in Government credit. Students are asked to represent nations across the western hemisphere (from the perspective of the people of those nations) regarding several agenda topics spanning from social issues, to political issues to environmental issues.
This year Hadley-Luzerne represented the nation of Nicaragua, which has been facing a return to dictatorship under the Ortega regime. The students also represented Brazil which, along with much of the world, is struggling with the blurred lines between sensible right wing policies and fascism. Their advisors, Mr. Jay Connelly and Mr. Wayne Strong, prepared the students with public speaking exercises, creative/critical thinking, political thought, marketing, and many other soft skills. This allowed students to perform with a level of unduplicated authenticity.
Students took the highest honors in the 1st, 3rd, and budget committee rooms, while the entire delegation of Nicaragua was awarded the overall trophy for Most Diplomatic.
Members of the award winning team include, Colin Berg, Finn Doherty, Kaylie Goman, Sierra Guilder, Nicholai Hayes, Kelly Hogan, Hannah King, Angelina Livingston, Ryan Lott-Diamond, Carter McIntosh, Wyatt Moore, Connor Moulton, Alyssa Russell, and Katrin Schreiner with committee secretaries, Kayden Beaver, Sarah Abbott and Jessica Amoroso.